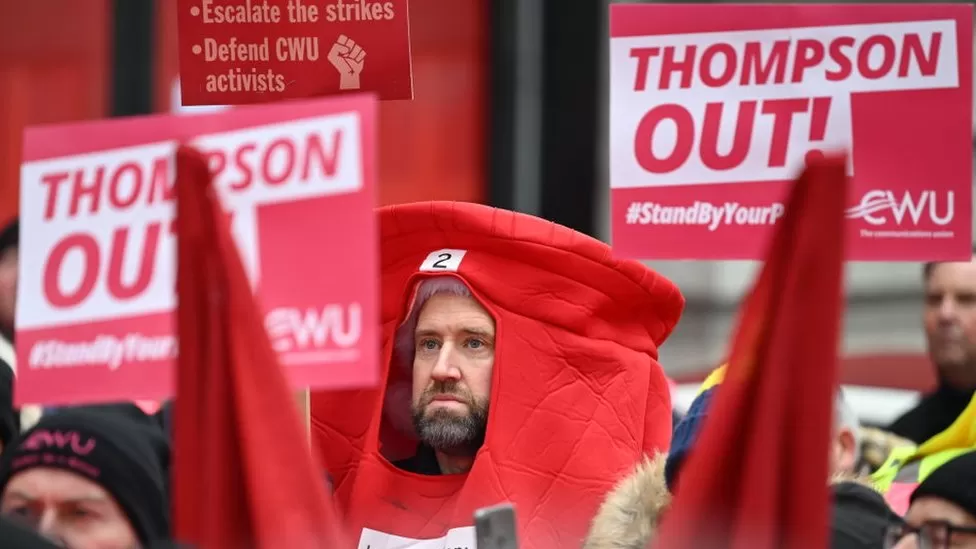 Thousands of postal workers at Royal Mail are on strike over pay and conditions, potentially causing disruption to customers' festive deliveries.
More than 115,000 staff walked out on Friday, with more strikes to follow in the run-up to Christmas.
Recent talks between the CWU union and Royal Mail have broken down.
Members of the union are expected to continue striking on Sunday as well as on 14, 15, 23, and 24 December.
Although there are no letter deliveries on Sundays, there are parcel deliveries, and Royal Mail also processes mail on a Sunday for delivery on a Monday.
Last week, Royal Mail advised people to post Christmas mail earlier than usual due to the strikes.
Millions of letters have reportedly been piling up as negotiations have stalled, while it has brought forward the final suggested date for sending second class post to 12 December from 19 December, and for first class to 16 December from 21 December.
The union has said staff want a pay rise that matches the soaring cost of living and has accused management of trying to "force through thousands of compulsory redundancies"
Workers carrying placards demanding the removal of Royal Mail's chief executive Simon Thompson gathered outside the Mount Pleasant Mail Centre in London - the company's largest sorting site in the UK.
One employee Nick, who has worked for Royal Mail for 38 years, told the BBC that although he had walked out during previous strikes, the distance between management and unions appeared to him to be wider in this wave of industrial action.
"It seems to me there's not really a negotiation. It is a take it or leaves it deal where they are attacking our terms and conditions."
Inside the sorting office, parcels and letters continued to be sorted by a skeleton crew of 100 people, compared to the 1,000 employees who normally work at the center.
Joy, who has been with Royal Mail for 28 years, told the BBC he had chosen to come to work on a strike day because "I want to please my customers because of the peak time".
He said that firms are worried about business after the height of the pandemic. "They need their letters and their mail ASAP," he said."I want to keep moving the mail."
Members of the CWU also staged a rally on Friday afternoon outside Parliament in central London.
The union's general secretary, Dave Ward, said at the rally that the union was preparing a fresh ballot over further strike action in January.
But speaking during a visit to an RAF base in Lincolnshire, Prime Minister Rishi Sunak said that he was not ruling out extending "tough" new anti-strike laws to prevent walkouts by emergency service workers.
He said the government was "looking at all options" when he was asked about the potential changes to the law to limit the impact of strikes.
The most recent dispute in the postal industry began this summer after Royal Mail rejected demands for a pay rise that matched inflation - the rate at which prices rise - which is currently 11.1%.
Royal Mail has been struggling as it moves from its traditional business of delivering letters, which is no longer profitable, to parcel deliveries.
It wants to cut 10,000 jobs by next August, which will include 6,000 redundancies and thousands of other roles that will not be filled as staff leave.
It also argues that it needs to modernize how the business works to accommodate a rise in parcel deliveries, which would mean changing workers'